Annonce | Tyskerne elsker hvide asparges. Men det gør vi også i Danmark. Her får du opskriften på min fortolkning af en ret, som kokken NIco Mordhorst lavede til en event om tysk gastronomi i Torvehallerne for nylig.
Indlægget er en annonce udgivet i samarbejde med Tysk Turistinformation
Hvem laver den bedste ret? Mig eller min bloggerkollega Daniel fra Gastromand.dk, hvor han også går under navnet Fynboen. Det er spørgsmålet, efter at Daniel og jeg for nylig var med Tysk Turistinformation en tur i Niedersachsen og plukke asparges, for derefter at deltage i en madlavningsworkshop i Torvehallerne.
Her lavede den tyske kok NIco Mordhorst en ret med hvide asparges, som vi er blevet bedt om at lave hver vores fortolkning af. Og min ret kommer her (altså længere nede i indlægget) – og jeg er da helt sikker på, at den både er flottere, mere raffineret og absolut mere velsmagende end hvad Daniel disker op med. Men må den bedste (gastro)mand vinde.
Det er nemlig sådan, at I kan læsere kan stemme på den ret, I synes bedst om inde på Tyskernes Facebook-side – skynd jer lige derind og giv et like til min ret, ikk' 🙂
Selve turen til Niedersachsen kan I også snart læse om (og se video fra med Daniel og mig på slap line) – men indtil videre koncentrerer vi os lige om min (og Nicos) ret et øjeblik.
Se Facebook-siden for Rejselandet Tyskland
Se Daniels ret inde på Gastromand.dk
Nicos ret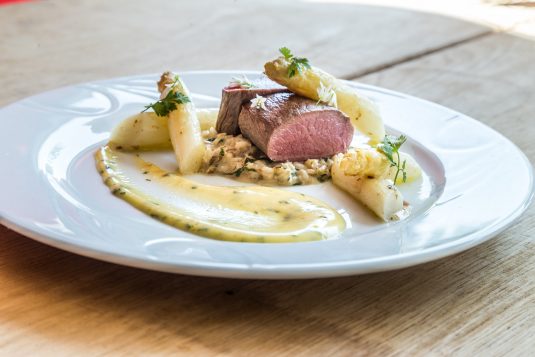 Nico Mordhorst er kok på Restaurant Bärenkrug lige uden for Kiel, og for ham – og de fleste andre tyskere – hører der sauce hollandaise til de hvide asparges. Oftest serverer man også gerne en sprød schnitzel til, hvilket jeg ikke helt forstår, for schnitzlen er alt for voldsom i smagen til de ellers så sarte hvide asparges, synes jeg.
Det gjorde Nico dog ikke. Han lavede en mere raffineret ret, hvor de lækre tyske asparges blev serveret oven på en risotto lavet på perlebyg sammen med et perfekt stykke sommerbuk og en hollandaise smagt til med estragon – altså en bearnaise sauce.
Det var en herlig ret, som Nico lavede. Sikkert i sit valg, omend risottoen er lidt sådan 'so ten years ago', hvor det var the shit i det nordiske køkken. Ganske simpelt og i øvrigt dejligt velsmagende.
Nå, men denne herlighed skulle vi lave vores fortolkning af, lød opdraget på.
Lam, mynte og vilde urter – og en hilsen til schnitzlerne
Sommerbuk var en godt valg fra Nicos side – det er mildt i smagen, let og meget sommerligt. Men det ville jeg ikke servere til, når han nu gjorde det.
Jeg kastede mig i stedet over lam.
Lam er nemlig – hvad mange faktisk ikke ved – perfekt sommermad og en perfekt ledsager til asparges. Det der med lam til påske giver faktisk ingen mening, for netop i påsketiden er der overhovedet ikke lammesæson.
Lam er – fra de magre udskæringer – meget mildt i smagen og er allerbedst om sommeren, hvor lammene næsten lige er slagtet og har den fineste smag i kødet. Jeg købte et stykke lammefilet, som er ekstremt magert og ganske sart, så det skulle bare lige kysse en pande og serveres helt rødt.
Som tilbehør lavede jeg nogle hurtigt stegte sommerlige grøntsager i form af ærter, grønne asparges og lidt gult squash. Bare lige sauteret hurtigt i smør og smagt til med lidt mynte og citron. Dejligt sommerligt, og mynte og lam er jo en klassisk kombo, som englænderne i mange år har kendt til og elsket.
Jeg kastede mig også over bearnaisen, som jeg gav to twists på én gang. I stedet for estragon lavede jeg den nemlig med mynte (som er gode venner med lammet) og med spansk kørvel. Spansk kørvel er sådan en anissmagende urt, der vokser vildt i skoven og grøftekanten og den fineste smag af netop anis – ligesom estragon har det.
Og endelig ville jeg sende en hilsen til de panerede tyske schnitzler, så jeg lavede en lille kokette af lammefars, som blev vendt i æg og pankorasp og friteret helt sprød. Så var der også lidt sprødt og greasy til de tyske smagsløg på tallerkenen.
Nå ja, og det kom til at se sådan her ud.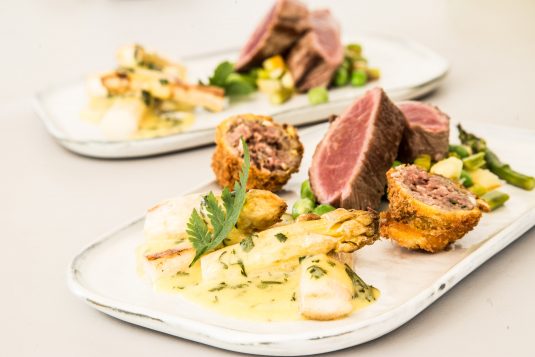 Sådan laver du hvide asparges med lam og mynte-bearnaise
Se videoen øverst i indlægget, der viser hvordan jeg laver retten
Til fire personer
Hvide asparges
8 hvide asparges
2 spsk smør
1 spsk citronsaft
1 dl hvidvin
1 dl vand
Salt
1. Skræl de hvide asparges og knæk de trevlede ender af. Kom dem i et ildfast fad med citronsaft og og smør.
2. Dæk det ildfaste fad med sølvpapir og bag asparges i ovnen ved 165 grader i 20 minutter.
3. Kom skræller, aspargesender, vand og hvidvin i en kasserolle med lidt ekstra citronssaft. Kog ved svag varme i 20-30 minutter.
4. Si kogevandet ned i en kasserolle og kog herefter lagen ind, så du har 2-3 spsk væske tilbage. Gem det til du skal lave bearnaisen.
5. Steg de bagte asparges i godt med smør på pande et par minutter lige inden servering, så de bliver en anelse brunede og endnu lækrere – vend evt med noget hakket spansk kørvel.
Lammekroketter
Fars
400 g hakket lammekød
2 spsk hakket frisk hvidløg
1 æg
1-2 spsk mel
2 spsk hakket frisk mynte
2 spsk frisk citrontimian
1 tsk revet citronskal
1-2 tsk salt
Panering og fritering
2 sammenpiskede æg
2 dl mel
Pankorasp
1 l smagsneutral olie til fritering
1. Kom lammekød og salt i en skål og rør godt, så det bliver lidt sejt i konsistensen.
2. Tilsæt de øvrige ingredienser til farsen og rør den godt sej – gerne på en røremaskine. Lad farsen hvile mindst en halv time.
3. Lav små kugler af farsen og vend dem først i mel, så i æg og endelig i pankorasp, så du har en god panering.
4. Friter kuglerne i varm olie, til kuglerne er gyldne og farsen er gennemstegt.
5. Tag kuglerne op og lad dem dryppe af på fedtsugende papir.
Sommergrøntsager
1 bakke friskbælgede ærter
1 bundt grønne asparges
2 spsk hakket frisk hvidløg
1 gul squash
2 spsk smør
Salt
Frisk mynte
Citronsaft
1. Skær de grønne asparges i mindre skiver – kasser enderne. Skær squash i små tern.
2. Smelt smørret på en pande og sauter frisk hvidløg heri. Tilsæt herefter squashtern og lad dem sautere et par minutter ved middel varme.
3. Tilsæt asparges og ærter og sauter yderligere et par minutter.
4. Smag til med salt, mynte og citronsaft.
Lammefilet
2 lammefileter
Olie til stegning
1 spsk smør
Salt og peber
1. Varm olie og smør op på en pande og steg lammefileterne 2-3 minutter på hver side.
2. Krydr med salt og peber og lad gerne kødet hvile inden servering.
Bearnaise med mynte og spansk kørvel
300 g smeltet smør (gerne klaret)
4 æggeblommer
Salt
2 psk hakket mynte (måske mere)
3-4 spsk hakket spansk kørvel (måske mere – smag dig frem)
1. Tag den indkogte kogelage fra aspargeskrællerne og tilsæt den smule væske, der måtte være i fadet med de bagte asparges. Varm forsigtigt væsken op.
2. Tilsæt æggeblommerne og pisk grundigt, mens det tykner lidt over varmen – pas på, at æggeblommerne ikke bliver for varme, så bliver de grynede og til røræg, og så er der ikke nogen sauce til dig.
3. Tilsæt langsomt det smeltede smør, mens du pisker – først en dråbe ad gangen, efterhånden i en tynd stråle. Pas igen på varmen, for lige pludselig skiller saucen, hvis det bliver for varmt. Og det gider du ikke.
4. Når saucen har en passende konsistens smager du til med salt, mynte og spansk kørvel og måske endda lidt citronsaft.
Og så er det bare at anrette og servere retten.
Velbekomme!