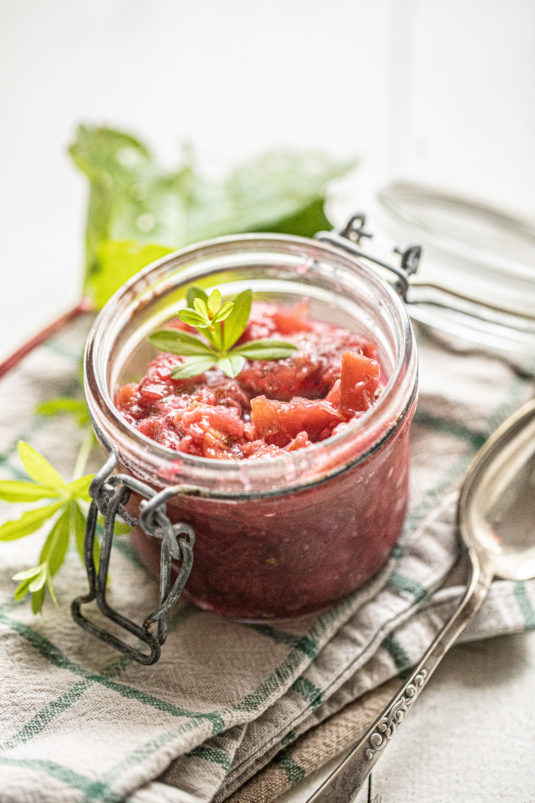 En klassisk rabarberkompot kan få et skønt aromatisk pift med lidt skovmærke. Det løfter rabarberkompotten gevaldigt at tilføje lidt af den skønne urt, der er nemt at finde vildtvoksende i vores skove, for rabarber og skovmærke klæder hinanden fantastisk.
Jeg elsker rabarber. Hvem gør ikke det? Og et af de bedste steder at bruge sin rabarber – hvis man fx har sine have bugnende af dem – er netop i en god kompot. Du ved sådan en kompot, der klæder både en skål yoghurt eller en kylling med det klassiske sommertilbehør,
Jeg elsker også skovmærke – den her lille grønne urt, der vokser vildt i vores skove og som har en skøn duft af vanilje, mandel og hø, og som klæder rabarber helt vildt godt. Skovmærke er ret nem at finde ude i skovene i april-juni og den dufter virkelig dejligt. Og så er den altså sjov at bruge – især i det søde køkken, hvor den kan bruges som et vildtvoksende alternativ til vanilje, som i disse år er blevet noget så frygtelig dyr at have med at gøre.
Og i denne rabarberkompot, synes jeg virkelig, at skovmærken gør en kæmpe forskel. Den urtede, aromatiske smag løfter rabarbernes syre og sødme og runder det hele af – på samme måde, som fx vanilje gør det, men på en mere urtet måde.
Jeg spiste den blandt andet oven på friskbagte fuldkornscones.
Se også: Fuldkornsscones – scones med fuldkorn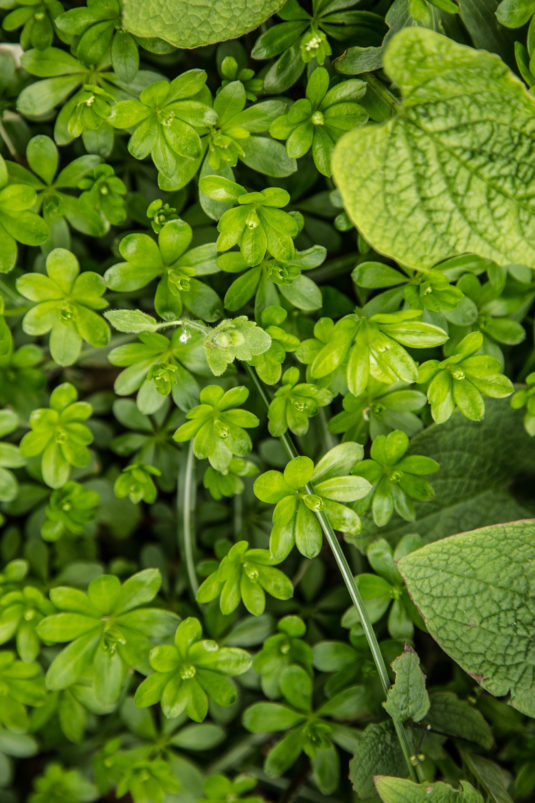 Skovmærke vokser vildt i fx bøgeskove, hvor den er bedst at bruge i maj, lige omkring blomstringstiden. Skovmærke er også virkelig lækker at lave snaps af.
Læs meget mere om skovmærke hos Vild Mad.
Læs også: Skovmærkeis med bagte rabarber
Opskrift: Sådan laver du rabarberkompot med skovmærke
500 g friske rabarber
200 g sukker
1 spsk vand
Skovmærke, en lille håndfuld, 10-12 stilke med blade
1. Skær rabarberstilkene i skiver og kom dem i en kasserolle sammen med sukker og vand. Kog rabarberne op og lad dem koge under låg ved svag varme ca. 20 minutter, til rabarberne er møre og begynder at koge ud. Er det hele lidt for tyndt, så fjern låget og kog videre, til du har den ønskede konsistens. Husk, at det hele bliver lidt mere tykt, når det er kølet ned.
2. Skyl skovmærken godt og hak den fint. Kom den hakkede skomærke i rabarberkompotten og tag den fra varmen. Rør godt rundt og lad rabarberkompotten med skovmærke køle helt af.
3. Server rabarberkompot med skovmærke som topping til fx yoghurt eller skyr eller som tilbehør til en kylling sammen med nye kartofler og agurkesalat. Eller som topping til en dejlig is.
Velbekomme!