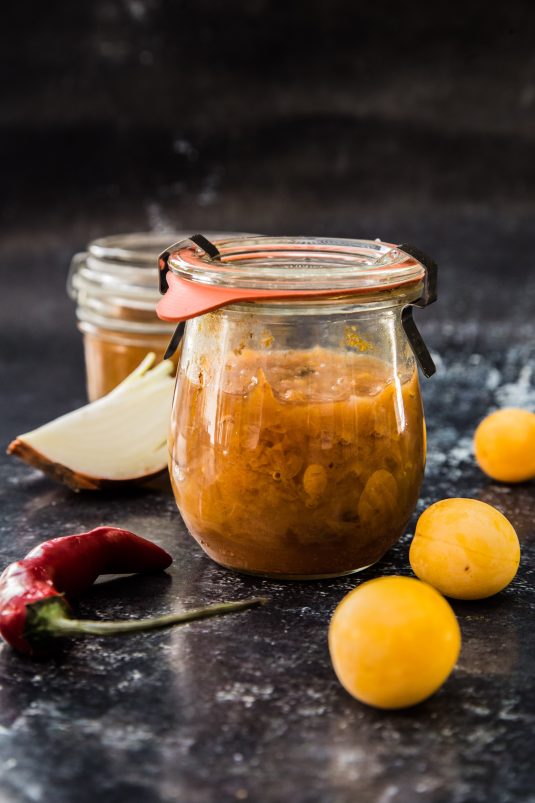 Leder du efter en perfekt partner til en gang boller i karry eller måske grillet fisk, så prøv at lave mirabellechutney. Syren fra mirabellerne giver en fremragende chutney – og med lidt friske koriander får det oven i købet et let asiatisk touch.
Jeg elsker mirabeller, og det er jo i grunden heldigt, for jeg here flere mirabelletræer i min have og på min skovgrund. Og især i år er der mange mirabeller, der tilmed har været modne tidligt.
Noget af det første, jeg lavede af mine mirabeller i år var denne mirabellechutney, som får en fin sur-sødlig smag, der klæder blandt andet boller i karry rigtigt godt. Jeg lavede den oprindelige som tilbehør til noget grillet makrel, som jeg serverede på rugbrød for nogle gæste – og det fungerede også virkelig godt.
Se også: Min opskrift på de bedste boller i karry – tilmed med ekstra eksotisk pift og masser af grønt
Dejligt med friske korianderfrø
Chutneyen fik i øvrigt et fint koriandertwist. Min korianderplante i en krukke på terrassen var nemlig begyndt at sætte frø, og de her friske korianderfrø smager altså bare vildt godt. De smager som en blanding af korianderblade og de tørrede frø, man blandt andet kender fra det mellemøstlige køkken.
Jeg kom nogle af de friske korianderfrø i chutneyen, og det gav altså en ret suveræn smag. Har du ikke friske korianderfrø kan du også bruge tørrede eller smide nogle friske blade i til aller sidst.
https://www.instagram.com/p/BlDEL0oAMfv/?taken-by=mikkelsmadblog.dk
Se også: Andre opskrifter med Mirabeller
Mirabellegrød med fløde – perfekt sommerdessert
Opskrift: Sådan laver du mirabellechutney
1 kg mirabeller
200 g sukker
1 dl æbleeddike
1 chilfrugt
1 stort løg – eller to mindre
2 tsk friske korianderfrø (eller tørrede, godt knust i en morter – eller lidt friske korianderblade)
1 spsk olie
Salt
1. Rens mirabellerne og fjern stenene.
2. Hak løgene groft. Hak chilien fint – fjern kerner og hinder, så chutneyen ikke bliver for stærk.
3. Varm olie op i en gryde og sauter løg og chili, indtil løgene bliver gennemsigtige.
4. Kom de rensede mirabeller i gryden sammen med sukker og eddike. Lad det koge, indtil mirabellerne er godt kogt ud.
5. Slag til med friske korianderfrø og salt. Tilsæt evt. mere sukker eller eddike, hvis den enten er for sur eller for sød.
6. Kom på skoldende glas og luk tæt. Server chutneyen kold.
Tip: Vil du være sikker på, at miabellechutneyen kan holde, så kom den på glas med patentlåg og luk dem. Sæt glassene i en kold ovn, og tænd ovnen på 160 grader. Lad langsomt indholdet komme i kog. Når det bobler let i glassene, kan du slukke ovnen og lade ovnen køle af med glassene heri. Så lukker glassene helt tæt, og kogningen inde i glasset sikrer at indholdet er helt sterilt.